It has been a busy few weeks in the BakeryBird kitchen. I've got LOADS to catch you up on.
First off, it was Papa Ritch's birthday. He was 60 years young.
And if there is one thing my Dad loves more than anything it's his only daugh… dog.
To be fair, LOOK AT THAT FACE.
So, I thought nothing would be more fitting than his very own Westie cake.
Surprisingly, he was dead easy to make (thank God he isn't a Poodle!)
There wasn't a Westie tutorial on good old Youtube (ooh maybe I should do one?) but you can learn how to make other tasty woofles here:
As per, it was Rainbow cake inside (obvs) and Padre paws-itively loved it.
The very next day, I made a Junk in the Trunk for my Work Wife's little Bro also featuring a pet pooch.
Harvey the Basset Hound!
Trying to get him to sit still for a photo was…well…pretty easy actually.
By this point, I was pretty ex-paw-sted.
But I had to man-up to make Amari's 5th Birthday cake.
Spider-man-up to be exact.
At one point, I accidentally used my Spidey-strength and put my thumb through the cake board. Praise the Lord for cover-ups!
Oooh and there was another sneaky Junk in the Trunk that week too for Gembo. Phew!
I'll admit, at this point I did have a teeny tiny holiday to Cyprus.
There was no cake there however, so we'll move on.
No sooner had I hit the tarmac and I was churning out toppers for 80 Wedding cupcakes.
To keep them as fresh as possible, I always bake the cupcakes themselves the day before, but you can make the toppers up to a month in advance.
After a long day shift, at 11.30pm I FINALLY FINISHED ALL 80.
The next morning I flew down to Singleton Lodge to deliver them to the beautiful Bride.
I'd watched exactly 15 minutes of Saturday Kitchen before I got a call to make an emergency Butterfly cake for a 6th Wedding Anniversary the very same day!
I didn't have a plan, so I just decided to wing it.
Whiiiichhh brings us to today.
Manchester Food and Drink Festival  kicks off on the 10th-21st September. This years timetable is full of the North West's finest food vendors and tip-top class Chefs giving tutorials to packed and hungry audiences.
They are also running a Bake-Off Spectacular. Today was the first round for which I created this Gay Pride themed beauty:
AND I GOT THROUGH!
Not only that, but Bakeorama herself Charlotte O'Toole was a judge and posted not one but TWO pictures of my cake on Twitter! DAY MADE.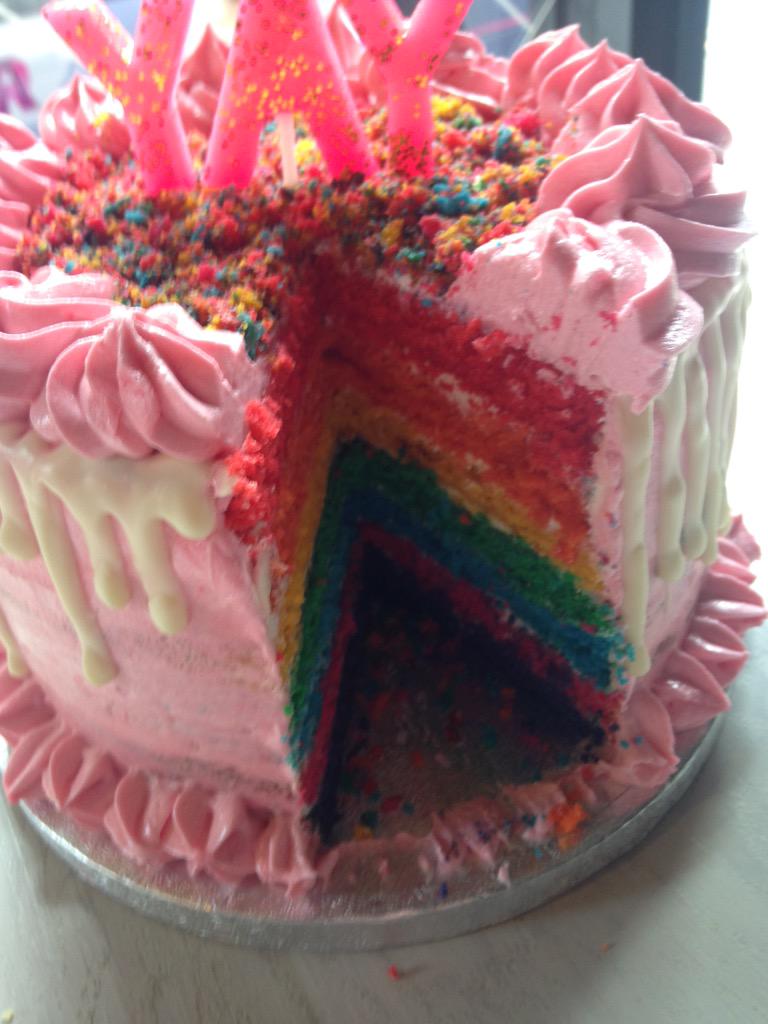 The competition was tough, Manchester has some SERIOUSLY talented bakers (including the amazingly named Baking Nanna who produced a unbelievable white chocolate finger cake I wanted to cram in my face!)
I pinched a recipe from Momofuku Milk bar in NYC which I will get the pleasure of visiting when we head over there in December! Eeek!
Christina Tosi's birthday cake recipe is my all time fave. Learn how to make it here:
So now I've got to come up with a super-amazing cake to win the crown of Manchester's Best Amateur Baker! I just hope I'm up to the challenge and don't crumble under the pressure. *Sigh*
If you have any suggestions, comment below. There's a slice in it for ya.
I am LOVING baking life at the moment and I have a ton of things lined up for you beauties so watch this very busy space!
BB x